How to play?
Moving:
- Up, Down to drive backwards or forward, space to brake
- CTRL = hand brake (only on some vehicle)
- Left,Right = steer (speed dependent)
- F = horn (use it to activate some hydraulic presses, but some are automatic)

To figure out, how to complete a level, click on [demo] or watch [replays] at the high score table. Hold the key 9 to speed up the replay.
Camera controls:
Turn the camera with ADWS, zoom in and out with EQ.
Switch to fixed angle camera with F8.
In hard mode your view is limited to the driver's seat.
Use F1-F6 to change view. Hit Enter to switch back to the previous mode.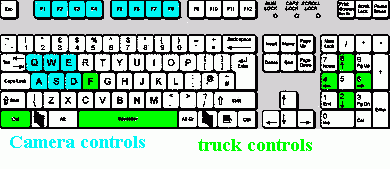 hint: press BackSpace to go back to last checkpoint.